History of Reiki
Reiki is Japanese for 'universal life energy' and has been recognised as a term used to describe a form of natural healing. Reiki was discovered in the early 20th Century in Japan by Dr Mikao Usui and is now practised worldwide.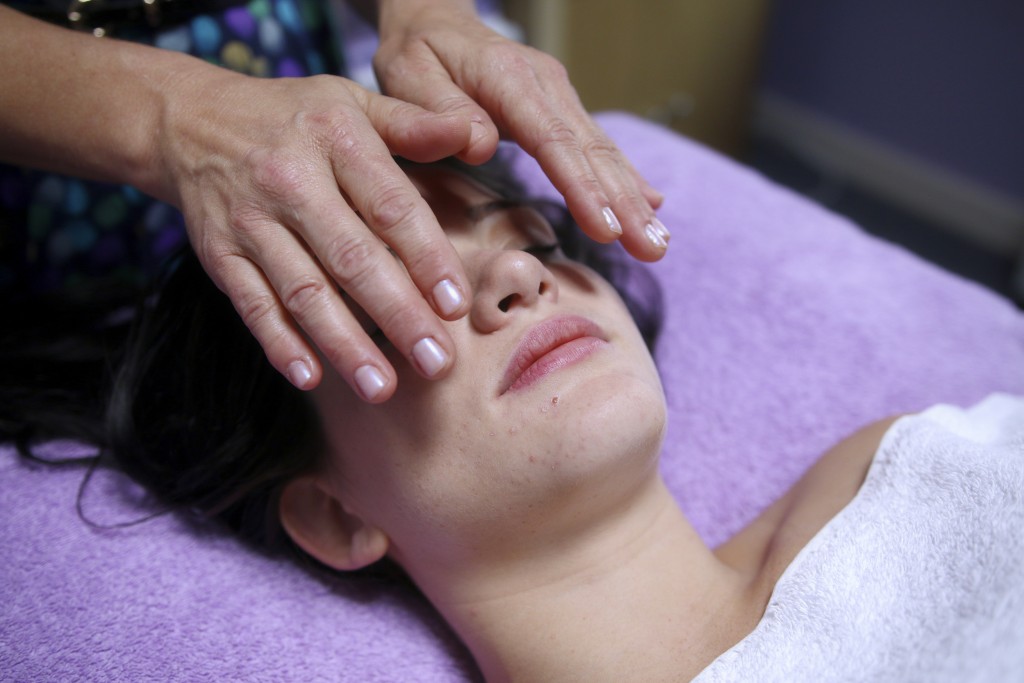 What is Reiki?
Reiki is a non-intrusive treatment used to promote relaxation and is available in our Glasgow venues.
The client remains fully clothed while the practitioner use their hands to change the balance and energy fields around the clients body which will have an overall effect on the emotional, physical, spiritual well-being of the client. The practitioner will move their hands across the body or, a couple of inches above your body should they prefer which is considered 'distant healing'. Their hands generally move from head to toe and have the intention of transmitting energy into the patient by means of touch.
Reiki is performed by the masters who have learnt the art from others, to educate their clients about the benefits of energy channelling as a natural healing remedy. If you are interested in learning more about Reiki, Angela is a Reiki master and runs courses from Level 1 through to Masters in Usui and Holy Fire Reiki.
It is a simple method and is guaranteed to help you feel nourished and calm. It is not a treatment designed to target specific areas of the body but rather the whole person and therefore the experience is a very personal one and people can react differently depending on their individual needs and circumstances at the time of treatment.
We will sit with you prior to the treatment where you can ask as many questions as possible to try and put your mind ease and make the process as stress-free and comfortable for you as possible. The number of suggested sessions of Reiki alters which is why we will discuss a treatment plan with you during the first consultation.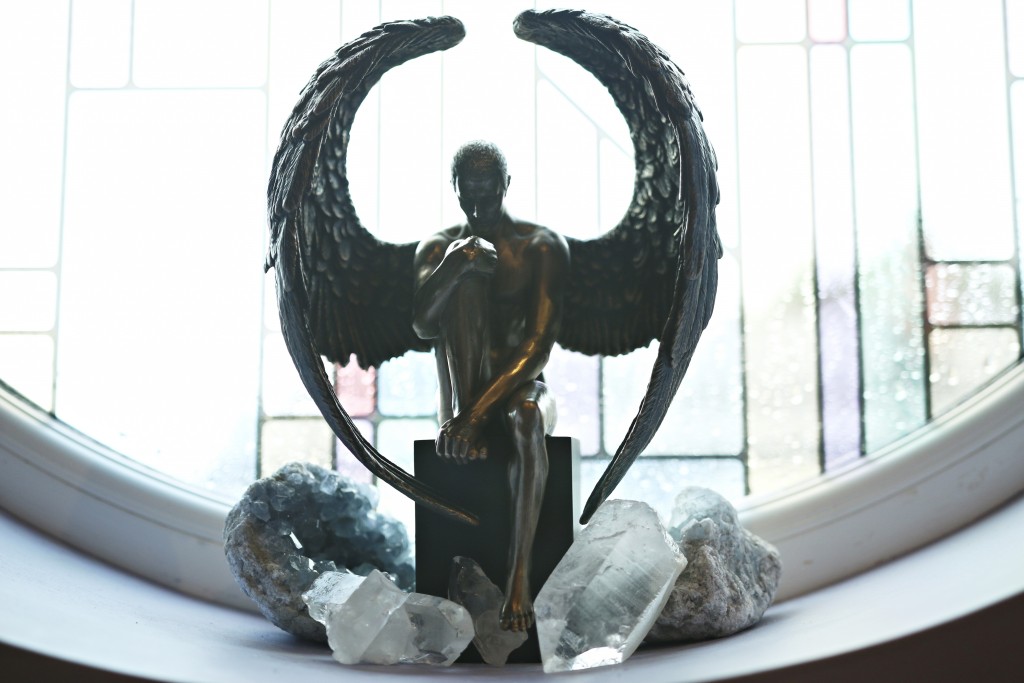 Advantages of Reiki:
Helps the body emotionally during a period of recovery
Helps the body spiritually
Comforting
Promotes healing
Reiki has been used by a number of pregnant women to try to calm their nerves and ease the pain
A number of cancer patients have undergone Reiki to help ease their side effects. Although there is no scientific evidence that Reiki treats, cures or prevents cancer, it can be seen as a contributory factor to support cancer patients. Reiki takes place in a very calm environment which encourages the patient to relax. The close physical contact often helps patients feel reassured which has a positive effect on the patients overall wellbeing. Reiki can also be seen to help with some of the side effects of cancer such as anxiety and sickness.
The clinics in Glasgow offer Usui and Holy Fire Reiki and I have been trained to masters level in both. You can change the wording but both styles to be added in.
Reiki is a wonderful, relaxing treatment which is strongly recommended to treat stress and anxiety. We run Reiki treatments at our Glasgow venues; 'Golden Jubilee Hotel' and 'Napiers the Herbalists'. The treatment starts at £30 per hour. If you are looking for a Massage and a Reiki Facial which takes one hour and a half, the price is £55.
If you require any more information or want to book a session of Reiki, please email me at info@essenceofthesoul.co.uk.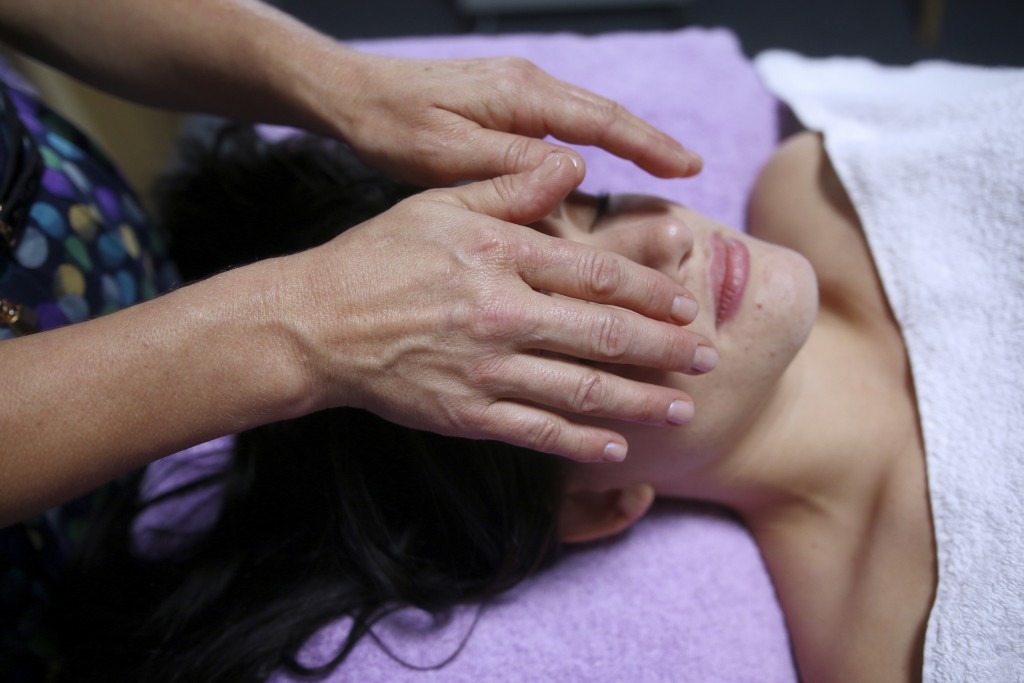 Massage with a Reiki Facial.
This treatment includes a 45 minute massage with a 45 minute Reiki facial using Reiki energy during the facial. Utilising 100% natural Tropic products with:
A luxurious cream cleanser and organic bamboo cloth
Exfoliator that smooths and brightens the skin
A facial massage using age defying facial oil
A choice of mask from clear skin, Deep hydration or Face lift
A hand massage.
A refreshing pore refining mist
Completed with a nourishing cream concentrate.
Essence of the Soul Reiki Review :
"I have been with Angie for about 7 years now and would recommend her to anyone. In that time I have had a variety of treatments initially just for my own self wellbeing. After being with Angie for a few years I was diagnosed with cancer and she really helped me in my dark times, really going the extra mile by coming to the house when I was recovering from the operation.  I remember the sense of peace and calm I used to feel after each session as I was coming to terms with the mental anguish of cancer and I was able to confront my inner demons and fears without the gut wrenching terror I felt inside. She really helped me come to terms and overcome my fears.
A few years later bad health struck again as I suffered appendicitis with complications and again I feel she aided in my recovery. I still suffer from the odd ache and pain but I think it would be a lot worse had it not been for her. She has also on many occasions managed to alleviate my gout which I suffer with from time to time and let me tell you that's more painful than the two operations combined .  As I enter my eighth year I look forward to eight more. Thanks for everything Angie !!!"  – Rick Lawrie. Chorley.
Venues:
Glasgow – Napiers the Herbalists and Newton Stewart venue
If you require any more information or want to book a Reiki session, please email me at info@essenceofthesoul.co.uk.